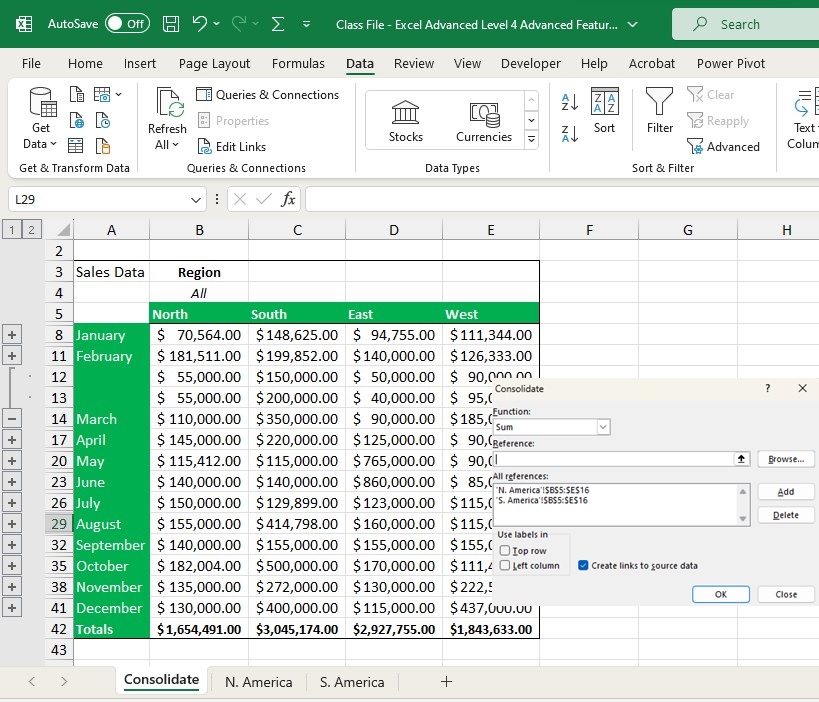 Click an Excel course title below to view class details and dates:
Excel Training for Employees and Individuals Online

Data Creative provides live, instructor-led Excel classes to help you master Microsoft's most popular data-related application. Our top-rated, expert instructors train thousands of employees each year to produce higher quality work in a shorter timeframe. Every class is live using hands-on exercises. We guarantee your satisfaction to become more comfortable and fluent in Microsoft Excel.
Excel Training for Private Groups Online
Data Creative can deliver live, in-person Excel classes. Our instructors will go onsite to deliver standard or customized classes to meet your needs, schedule and budget. Contact Data Creative today to learn more about our private group training capabilities.
Request a private group training event here for your group online or call 916-601-0992 for more information.
Excel Level 1 – Introduction
Creating Spreadsheets and Understanding Basic Formula Construction — 1 Day
Excel Level 1 is a one-day instructor led class providing the basic concepts and skills needed to be productive and efficient in Microsoft Excel. By the end of the class, participants will be able to create and edit worksheets and workbooks, perform basic formulas and functions, and understand how to format, manipulate, print, and protect their data.
Navigating and Workbook Basics
Basic Formulas and Functions
Formatting, Styles and Themes
Data Entry Shortcuts
Autofill, Linking and Paste Options
Inserting, Deleting, Hiding Rows and Columns
Protecting Worksheets and Workbooks
Importing Data
Printing and Saving Options
See Full Course Outline
Class Schedule
Scroll to see more Dates »
Excel Level 2 – Tables & Charts
Creating Tables, Charts, and Objects; Introduction to Pivot Tables — 1 Day
The Excel Level 2 class provides training in intermediate-level features and tools within Microsoft Excel to organize and analyze data. Upon successful completion of the class, students will be able to perform an array of common tasks more confidently and efficiently, such as working with named ranges, tables, advanced formats, and charts.
Customizing the Ribbon, Quick Access Toolbar, Status Bar, Options
Inserting, Deleting, Hiding and Rearranging Worksheets
Creating and Managing Named Ranges
Understanding Excel Table Structure
Creating a Table
Conditional and Custom Formats
Adding Graphics
Visualization Basics, Charts and Sparklines
Introduction to Pivot Tables
See Full Course Outline
Class Schedule
Scroll to see more Dates »
Excel Level 3 – Formulas & Functions
Creating Formulas and Working with Built-In Functions like Lookup — 1 Day
Excel Level 3 is a one-day instructor led class that will take participants to an advanced level using formulas and functions in Microsoft Excel. By the end of the class, participants will be able to manipulate large data sets more quickly and easily using a variety of advanced functions and formulas. Participants will also be able to summarize data efficiently using the consolidate and subtotals features.
Logical & Lookup Functions
IF, AND, OR, NOT, IFS
Nesting
VLOOKUP, HLOOKUP, XLOOKUP
Date/Time & Text Functions
Reference Functions
Statistical & Financial Functions
SUMIF, SUMIFS, AVERAGEIF, AVERAGEIFS, COUNTIF, COUNTIFS
Advances Formulas and Auditing
Data Consolidation
See Full Course Outline
Class Schedule
Scroll to see more Dates »
Excel Level 4 – Advanced Features + Macros
Advanced Formulas and Functions; Introduction to Macros — 1 Day
Excel Level 4 is a one-day instructor led class building upon the Level 3 course. The training continues with additional advanced features, macros, and data visualization features in Microsoft Excel. Upon successful completion of this class, participants will be able to use macros to automate repetitive tasks; what-if analysis to identify data solutions; validation to ensure the data in your workbook is appropriate; build lists; and use Quick Analysis features.
Recording Macros in Excel
Relative vs. Absolute Recording
Running Macros
Editing and Deleting Macros
What-If Analysis Including Solver, Goal Seek and Scenario Manager
Data Validation
Advanced Import/Export/Linking
Custom Lists and Views
Saving in Different Formats
Creating/Editing/Deleting Hyperlinks
Quick Analysis Features and Conditional Formatting
Data Visualization including Charts, Totals, Tables and Sparklines
See Full Course Outline
Class Schedule
Scroll to see more Dates »
Excel Level 5 – Pivot Tables
Summarizing and Analyzing Large Amounts of Data — 1 Day
Excel Pivot Tables is a one-day instructor led class covering Pivot Tables, a powerful feature in Microsoft Excel which enables data manipulation with simple dragging and dropping. At the end of this class, participants will be able to sort, filter, group, summarize, and format data with ease and efficiency using Pivot Tables.
Creating Pivot Tables in Excel
Setting up your Source Data
Pivoting your Data
Drilling Down
Sorting Pivot Table Data
Grouping by Rows, Columns and Dates
Filtering Pivot Table Data
Using Slicers to Visually Filter Data
Exploring Report Layouts
Calculating Pivot Table Values
Generating and Manipulating Pivot Charts
Show Commands
See Full Course Outline
Class Schedule
Scroll to see more Dates »
Excel Level 6 – Power Pivot
Creating Data Models and Performing Data Analysis — 1 Day
Excel Power Pivot is a one-day instructor led course covering the Excel add-in you can use to perform powerful data analysis and create sophisticated data models. With Power Pivot, you can combine large volumes of data from various sources, perform information analysis rapidly, and share insights easily.
Importing Data from Access and Excel
Relationships Between Data Tables
Creating Hierarchies
Shaping the Data Model with Data Analysis Expressions Functions (DAX)
Calculated Columns and Measures
Customizing DAX Expressions
Time Intelligence
Creating and Relating to a Data Table
See Full Course Outline
Class Schedule
Scroll to see more Dates »
Excel Level 7 – Power Query
Preparing and Manipulating Data Sets — 2 Day
Excel Power Query is a two-day instructor led course covering the Excel add-in you can use to prepare and manipulate large data sets. Power Query helps you collect data from different sources using a graphical interface and apply transformations using a Power Query Editor. You can import data, clean it, transform it, then reshape it according to your needs. You can set up a query once and re-use it later by simply refreshing. Power Query has several useful features embedded in it, such as the appending of data and creating relationships between different data sets. You can group and summarize data with the help of the Power Query tool.
Introduction to Power Query
Data Scrubbing
Data Preparation Challenges
Combining Data from Multiple Sources and Mismatched Tables
Unpivoting Tables to Restructure Data or Address Previous Poor Design
Avoiding Common Data Wrangling Pitfalls to Build Robust Queries
See Full Course Outline
Class Schedule
Scroll to see more Dates »
Excel Level 8 – Programming with VBA
Data Automation Using Macros and Code — 2 Day
Excel – Programming with VBA is a two-day instructor-led advanced Excel class that teaches participants how to take complex and time-consuming tasks and automate them with code. You will learn how to use the macro recorder effectively, as well as how to write your own VBA code from scratch. You will use tools built into Excel to explore and learn VBA's capabilities and to optimize and debug your code.
Introduction to Visual Basic for Applications
Recording Macros
Excel VBA Programming Basics
Writing VBA Code from Scratch
Solving Problems through Code
Improving Your VBA Code
Debugging
Error Resolution
Controlling How and When Macros Run
See Full Course Outline
Class Schedule
Scroll to see more Dates »
What People

Are Saying About Us
Really good progression on Excel Levels 1-3. Was able to take a decent survey of the capability of Excel and work on target areas like V-LookUp which were of special importance to me. You can save the Manuals Work Books for reviewing and recreating lessons as practice
Carolyn did a great job at teaching the class and making all of the information feel manageable and easy to understand. Although the class was small and quiet she stayed engaging and thorough the entire time. I would definitely recommend this class to others!
Carolyn was a phenomenal teacher! I learned many new things from the Excel 3 course that I took; I can't wait to take other courses that Data Creative offers.
I absolutely loved the trainings I have taken with Data Creative. The instructors are very professional, easy to follow, knowledgeable and friendly. The groups are relatively small, so you get personal attention. I highly recommend them for everyone that wants to learn new skills or improve their performance.
Awesome training at a very good pace. Trainers were very open to example scenarios and unique questions. Highly recommend!
Today I was took the excel level 2 class with Data Creative. The instructor was very professional and knowledgeable. He presented everything available to the lesson and more. I will definitely be taking the 3rd lesson through Data Creative.
I completed the level 1 and level 2 PowerPoint training with Damian and I learned so much! I've been using PowerPoint for a while and had no idea that there was so much you could do with it. Damian was very easy to follow, friendly, and willing to answer any and all questions. I would definitely recommend this course for anyone looking to fine tune their skills in PowerPoint.
Excellent communication and class setup. Classes are well structured, not too fast-paced. Nice materials, easy to review and follow even if you do not have two screens!
Trish was an excellent facilitator and very personable. The class, Excel Level 4, was easy to follow and she encourage us all day to ask questions! She supplied us with a lot of useful information and "extras". I learned what I was hoping to learn and had fun doing it.
I took the Excel Level 1, 2, 3, and the Power Point class. I have worked with Excel for over 20 years and I am blown away on how much I thought I knew, but really didn't know. I would recommend Data Creative to anyone who would want to learn more about what different programs can do. I will be looking forward to any other class my place of employment will want me to take through this company
Frequently Asked Questions
Microsoft Excel is a powerful spreadsheet software developed by Microsoft. It is used for data analysis, calculation, visualization, and organizing information. Excel is essential in various fields, including finance, accounting, data analysis, project management, and more.
No prior experience is necessary. Our Excel classes cater to all levels, from beginners to intermediate and advanced users. Our instructors will start from the basics and gradually build up your skills.
The class will cover a wide range of topics, including Excel basics, formulas and functions, data manipulation, charts and graphs, conditional formatting, data validation, pivot tables, and more. The syllabus will be provided at the beginning of the course.
Our online Excel classes are conducted through a user-friendly virtual learning platform. You can participate in live sessions, access pre-recorded lectures, and interact with the instructor and fellow students in real-time.
To participate in our online classes, you will need a computer or laptop with a stable internet connection. The virtual learning platform we use is accessible through standard web browsers, and no additional software installation is required.
Find Excel Classes in Other Cities